THE MARKET HITS PAUSE FOR THE HOLIDAYS
With 7 home sales in Rancho Santa Fe in November 2022, the holiday season slowdown has arrived earlier and stronger than usual. Homeowners, both buyers and sellers, have hunkered down, awaiting rate drops and the new year to see how markets fare begining 2023. See the list of November home sales below and links to HOMEDEX market reports for 92067, 92091, 92014, 92075. Inventory remains low but there are still some incredible properties on the market.
November 2022 Market Stats (click for the report)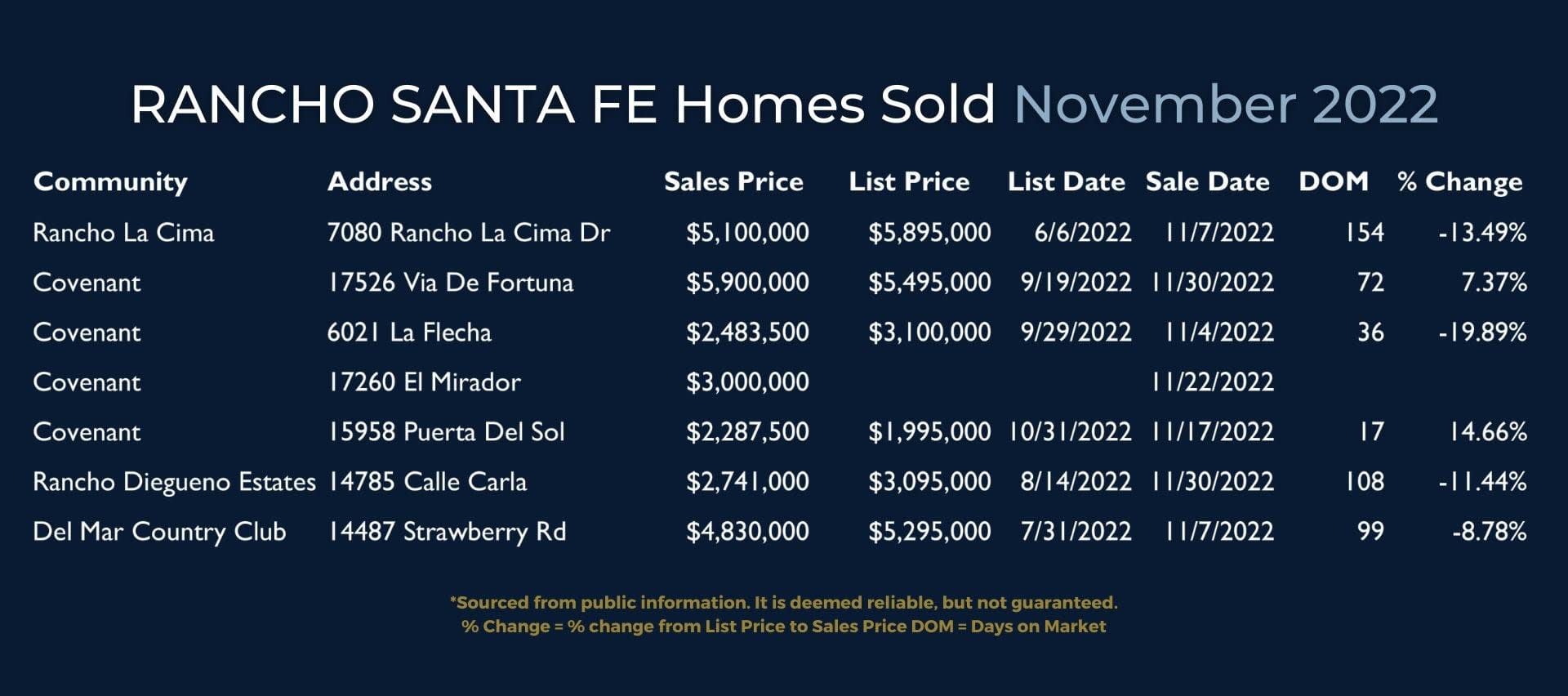 INSIDER INTEL
There is light sooner than later.
The trend is your friend:
-Lower than expected inflation numbers
-Average day on market remains low
-Homes priced right are selling
-Average sales price is only slightly down
1. Low inventory to start the year = under
2,900 in OC and 3,500 in SD.
2. The SD inventory will reach a peak of 6,000 homes. That's 1,200 more than this year, but still off the long term 7,500 home average.
3. During the pandemic, the market time for luxury homes dropped to historically low levels, less than 2-months. Yet, luxury is normally more sluggish with market times of 6-months or more. Luxury will continue to transition to normal, longer market times.
4. Closed sales are predicted to be down 6-8%.
5. Home values are expected to drop in 2023; down 6.5%-9% year-over-year.
6. Interest rates are expected to drop in 2023 from 4.75% to 6.5%.
7. STRONG potential for rates to come down to low 5% Summer 2023.
⬆️Typically home values rise when inventory is low.
⬇️When housing inventory is low and interest rates are high, home values decrease.
⬆️As the interest rates go back down as predicted in 2023, home values will return to increasing as they have historically.