1. Stunning, historic architecture
Beautiful Lilian Rice-inspired new build we sold in the heart of the Rancho Santa Fe Covenant.

Walking through Rancho Santa Fe's original planned community, the Covenant, you can't help but be struck by the beautiful Spanish Colonial architecture. Red tile roofs, adobe walls, and curved doorways feature prominently, as well as lush interior courtyards. The community's distinctive style can be traced back to its Master Architect, Lilian J. Rice, whom, in 1910, was one of the first women to graduate from the University of California, Berkeley, with a degree in architecture. From 1921 to 1927, Rice worked to construct a "community that would contain the simplicity and charm of a Spanish village."

Today, eleven different buildings in Rancho Santa Fe belong on the National Register of Historic Places and serve as examples of Rice's vision. The Village, which lies at the center of Covenant, contains the highest concentration of original structures. While the current community has expanded past Rice's original plan, a glimpse through listed Rancho Santa Fe homes reveal that builders are still paying homage to her Spanish-inspired architecture—but with a modern eye for luxury. Large, palatial homes with manicured landscaping are characteristic of Rancho Santa Fe, making it one of the nation's most highly sought-after residential communities.

A number of celebrities have called it home over the years, including film director and philanthropist Howard Hughes and singers Bing Crosby and Janet Jackson. Microsoft co-founder Bill Gates and professional golfer Phil Mickelson both currently reside in Rancho Santa Fe.
2. The rural vibe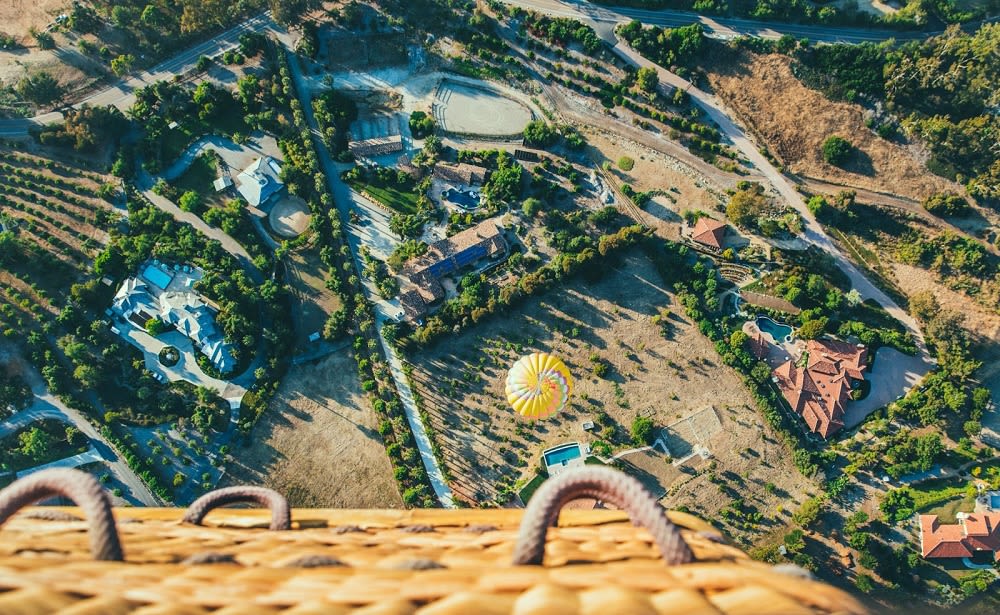 An aerial view of Rancho Santa Fe reveals a breathtaking scene of rolling hills and lush trees. Despite being a thriving San Diego suburb, the Rancho Santa Fe community still maintains ties to its ranching roots. Residents have access to Osuna Ranch, a 25-acre private equestrian facility on the historic homestead of Juan Osuna. They can also join the Rancho Riding Club or Fairbanks Riding Club to gain access to high-class facilities and expert trainers.

In 1906, the Santa Fe Railway purchased Juan Osuna's original ranch and the surrounding land to attempt an ambitious (and ultimately failed) experiment to grow lumber for railroad ties by planting 3.5 million eucalyptus trees. The beautiful, not to mention fragrant, aftermath of the Railway's failed horticultural experiment is now considered one of Rancho Santa Fe's unique draws.

The Rancho Santa Fe Association works hard to maintain the landscaping and vegetation that keep the community feeling lush and natural. In recent years, the association has begun planting indigenous plants and trees to create a more sustainable, drought resistant environment. These eco-conscious choices help preserve water and enhance the community's natural beauty.

All of these unique factors have helped Rancho Santa Fe maintain a rural feel. And with an average residential lot size of two acres, it's clear why Rancho Santa Fe real estate is in high demand.
3. Endless recreation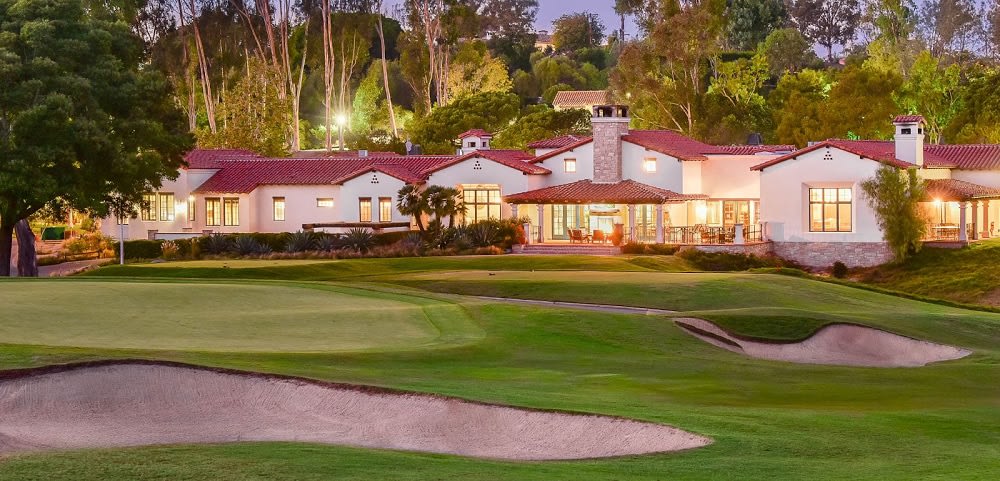 Photo courtesy of Rancho Santa Fe Golf Club
Outdoor Recreation
For those who aren't sold on Equestrian pursuits, Rancho Santa Fe offers a variety of other recreational opportunities. Residents living in Covenant have exclusive membership access to the prestigious Rancho Santa Fe Golf Club—a Max Behr designed golf course and the original site of the Bing Crosby Clambake. Nestled in a tranquil valley, Del Mar Country Golf Club, is another one of Rancho Santa Fe's golfing gems. The private course is able to provide members a no tee time policy, allowing them to hit the range whenever the urge strikes them.

Many Covenant homeowners also decide to join the Rancho Santa Fe Tennis Club, where they can enjoy topnotch facilities and personalized instruction. Another perk of living in Covenant is access to over 60 miles worth of private walking and equestrian trails. In addition, residents have the use of Arroyo, a 68-acre private property that's home to eucalyptus forests and wetlands. Residents can also pitch a tent and enjoy the private camping grounds.

If that weren't enough, Rancho Santa Fe is a roughly ten-minute drive from both San Elijo Lagoon Ecological Reserve and San Dieguito County Park. When locals are itching for some sand and waves, a short five-mile trek can get them to either Cardiff State Beach or Solana Beach.
Indoor Recreation
For those interested in a little pampering and relaxation, The Inn at Rancho Santa Fe offers a membership program complete with full use of spa facilities, pool access, and exclusive service discounts. Members can enjoy massages, facials, and guided meditations on the tranquil 21-acre sanctuary. The Forbes 5-star rated spa at Rancho Valencia boasts a full wellness experience, providing customers with a salon, yoga pavilion, and Pilates studio—not to mention a newly-expanded fitness center.

When it's time for a little retail therapy, residents can choose from a number of different shopping malls. Del Rayo Village Shopping Center, Cielo Village, and Plaza de Acacias are all conveniently located in Rancho Santa Fe itself.

Rancho Santa Fe's rich past makes it the perfect home for history buffs. There are a number of historic sites to visit and walking tours available. The Rancho Santa Fe Historical Society operates out of La Flecha, one of Lilian Rice's original buildings, and puts on exhibitions and events throughout the year. Locals can get involved with these events, and more, by applying to become members of the Historical Society.
4. An eclectic and luxurious culinary scene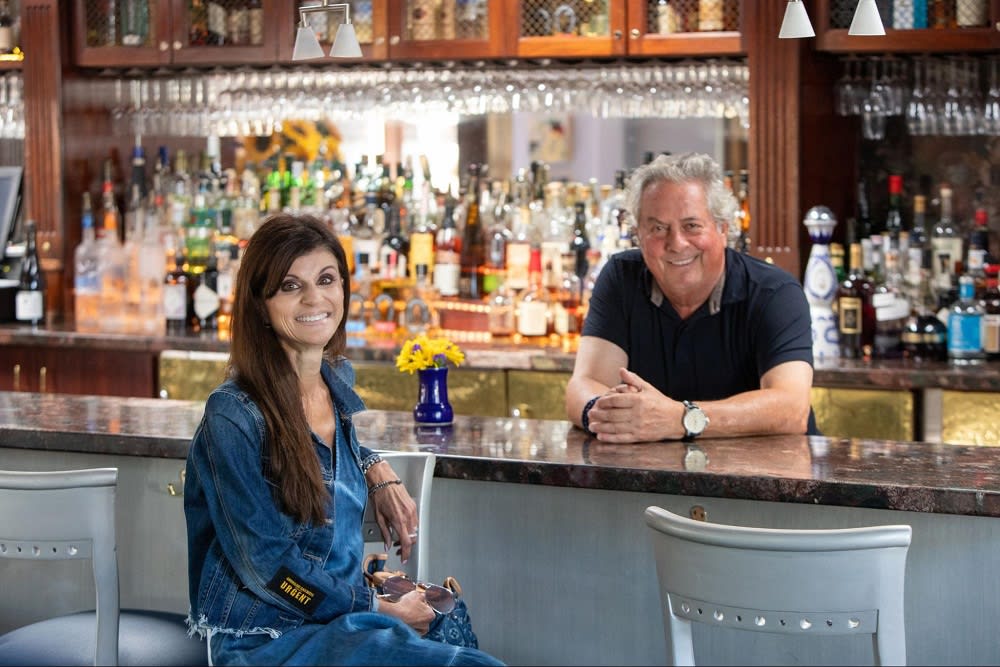 Linda & Mille Fleurs' proprietor, Bertrand Hug, catch up at the restaurant's famous bar.

Everyone loves a luxurious meal, and it's clear that the restaurants in Rancho Santa Fe know what they're doing when it comes to crafting an unforgettable dining experience.

Local staple Mille Fleurs offers delectable French cuisine, serving brunch, lunch, and dinner. Diners can sit inside next to the stunning bar or dine alfresco on their Parisian-like patio. Thursday through Saturday evening, the restaurant's piano bar hosts a number of talented local musicians.

Located in downtown Rancho Santa Fe, The Ranch Santa Fe Bistro was a 2020 Diner's Choice winner and boasts an impressive selection of wine—not to mention a dreamy, Secret Garden-esque patio.

For a farm-to-table experience and warm atmosphere, Dolce's got you covered. With a menu of farm-fresh plates, which include artisanal cheese, fresh salads, and wood-fired flatbread, it's clear why Dolce is another local favorite.

Two of Rancho Santa Fe's much-loved luxury resorts feature restaurants that locals can't get enough of. Morado Restaurant at The Inn at Rancho Santa Fe is housed in one of Lilian Rice's original 1923 structures. The luxurious but comfortable ambiance pulls diners in and the creative dishes keep them coming back.

Located in the Rancho Valencia Resort and Spa, The Pony Room is known for its incredible craft cocktails and gastro-pub fare. Dine indoors and take in the gorgeous Spanish Colonial architecture, or dine outdoors under chic string lights.

Coffee lovers are also well looked-after in Rancho Santa Fe. Opened in 2019, Nōjō Coffee and Tea is a rustic and trendy coffee stand located on Chino Farms. Customers can grab a hot or iced beverage and shop for farm-fresh goodies while wandering the picturesque farm.
5. A safe, family-friendly community
While Rancho Santa Fe is known for its luxury, there's another reason buyers flock to this area: the family-friendly lifestyle. The suburban setting offers families a sanctuary outside city life, while still being within a half hour of San Diego and all the entertainment the city offers.

The numerous recreational activities and large yards make Rancho Santa Fe a great place for parents to raise their children. Real estate data and marketing leader Niche actually ranks Rancho Santa Fe as #3 in "Best Suburbs to Raise a Family in San Diego Area" and #1 out of 816 in "Places with the Best Public Schools in California."

The R. Roger Rowe School for Elementary and Middle School Students was recently renovated and boasts consistently outstanding Academic Performance Index (API) scores and low student to teacher ratios. Torrey Pines High School is part of the desirable—and highly ranked—San Dieguito Union High School District. A number of private schools are available for parents and students to choose from.

Families can also rest assured that the community is very safe, with a CrimeGrade Ranking of B+, which is one of the highest in the area. Many of the communities within Rancho Santa Fe are gated, and the Rancho Santa Fe Association provides residents with a full-time security patrol for additional peace of mind.
Looking at homes for sale in Rancho Santa Fe?
If you're interested in exploring Rancho Santa Fe's luxurious real estate market, contact Linda Sansone today. As a 23-year resident of Rancho Santa Fe's Covenant, Linda offers her clients intimate knowledge of the area, and in-depth market analysis of every neighborhood. Consistently ranked by the Wall Street Journal as one of the country's top real estate agents, Linda will help you secure your California dream home with keen negotiation, convenience, and superb customer service.