Is it really fair to judge a home by its entryway? After all, it's your guest's first impression. Often serving as a "catch-all" for shoes, coats, and miscellaneous items that have accumulated over time, many people struggle to create an inviting space that's both stylish and efficient. Front entryways should feel warm and inviting and show your personality — if you're looking to spruce up your entryway, try a few of these easy design tips!


6409 Lago Lindo, Rancho Santa Fe Estate - Sold

1. Explore the perimeter
Flooring and wallpaper go a long way in a small area. Play with faux tile (on the walls and the floor), eclectic wallpaper designs, and unique rugs in the entryway. But don't go too overboard — your entryway should draw the eye into the heart of your home, not leave your guests overwhelmed with too much to look at. Find your "statement" element and run with it! Explore a single tiled wall in a neutral color or search for the perfect Moroccan rug to bring warmth to the space. If you're feeling daring, try a fun wallpaper, which has made quite a comeback since the '90s. Funky and beautiful wallpaper is a great (and easy) way to spruce up a smaller space. Find a print or pattern that aligns with your personality and fits the overall style of your home, like a subtle pastel, or go bold with geometric patterns or colorful stripes. For a tricky unique design, place your wallpaper on the ceiling instead of the walls to create a completely new look.
2. Add color
Gather your favorite photographs and artwork and let them shape your entryway space. Hang them strategically along the entryway and frame them in bold colors for a unique way to showcase your personality right when you enter your home. Guests will immediately learn more about you and not only does it spruce up the entryway, but it also sets the tone for the rest of the house. Funky and eclectic, this idea could also be successful with a few framed photos in one neutral color instead. Find what fits your personality best with this design.

If photos are too much, try a bold wall color. Bold color makes a statement, so make sure you're ready to commit to something new and fresh! A colorful wall (or even a colorful floor) brightens up a small space and adds contrast to the front door. Finish the space with simple decorations so the color stands out, but doesn't look too busy.
3. Find cute and efficient storage ideas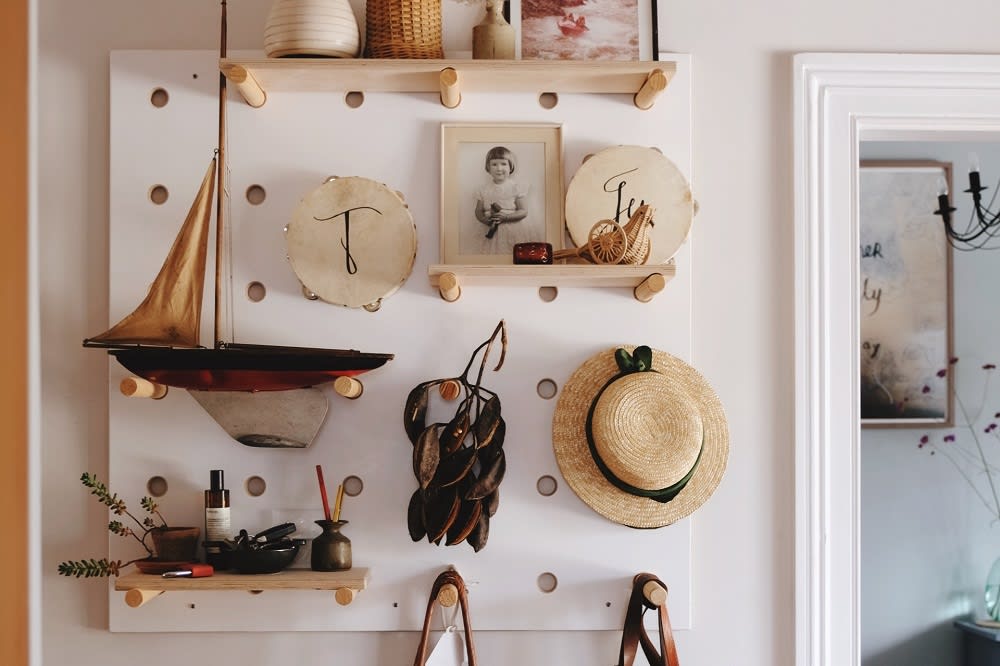 Credit: Domino

There are dozens of fun and creative ways to maximize a small space. From storage benches to roomy consoles, efficient storage in a small space is key. One unique way to add a practical design to an entryway is a pegboard. A sleek way to upgrade your space, this design is perfect for homes with a modern look, as most boards are made of light wood and can add a popular, Scandinavian look to an entryway. Pegboards are customizable and can include shelves and hooks to allow maximum flexibility in how the area is staged. Add a few hooks for accessories and a shelf to store car keys, mail, and even a plant. The options are endless!

Get creative with your storage bins. Many of us lead busy lives and don't have the time to keep our entryways looking pristine at all hours, so finding adequate storage to secretly hide our personal items is a design lifesaver. Scour your local boutiques for old library card catalogs or vintage wine racks to store shoes and accessories.
4. Add unique seating options
If your entryway is large enough, add seating options. Benches, chairs, and even daybeds have been popular additions to the front entrance of a home and make for the perfect piece to bring the entire space together. Practicality and style go hand-in-hand with this tip: having a designated place to take off your shoes is a luxury we never knew we needed, and with a little creativity, some seating options can double as storage compartments, which will truly maximize a small space.

Option for a daybed instead of a bench or a chair, which adds seamless luxury to any space. Daybeds can be decorated with colorful pillows and cushions, adding warmth to the space and creating a designated place to relax when coming home or preparing for an adventurous day out. Daybeds are a great option for an unexpected addition to any entryway, as long as there is enough space to accommodate a larger fixture.
5. Less is more
If you're looking for a way to keep the space tidy, keep in mind that less is more. Don't overwhelm the space with too many colors, large furniture pieces, or clutter. Keep it streamlined and simple. Be on the lookout for signature pieces, like travel items, simple framed photos, one moderately-sized mirror, or a gorgeous rug. Adding too many items to a small space creates chaos.

Keep bright colors in mind when styling a console: don't add decor items that clash with the colors of the walls. Find a few key items that have meaning to you and keep the space as open as possible. Showcase one signature art piece with a complementing chair or bench, and either keep the colors coordinated or muted.
6. Incorporate plants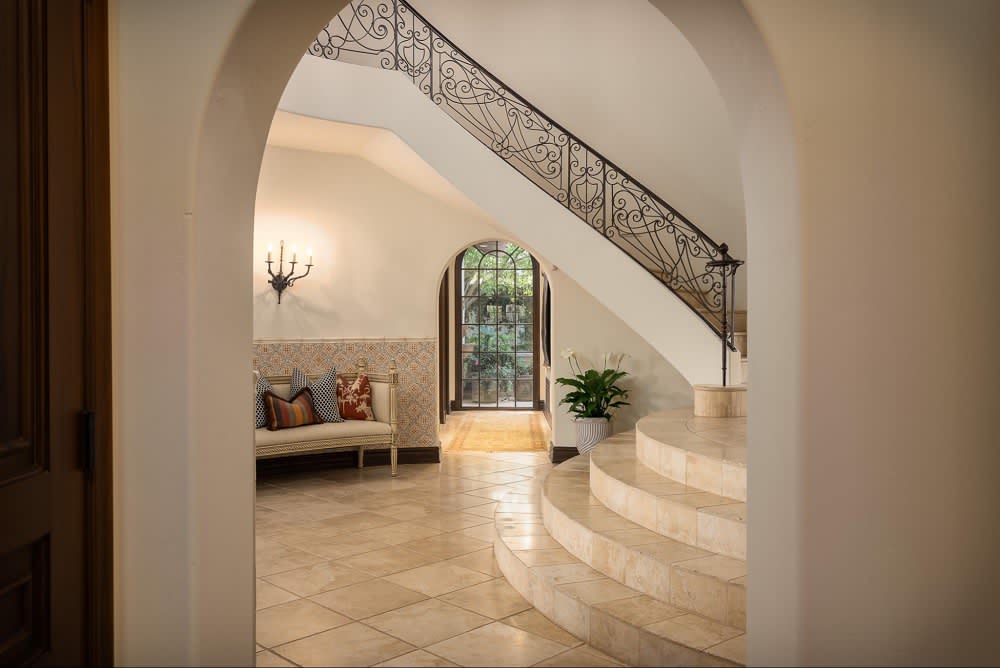 6063 Avenida Alteras, Fairbanks Ranch, Rancho Santa Fe - Sold

Plants are the life of any home and often act as botanical pets to many homeowners. Incorporating them into the entryway has great benefits: plants bring fresh air to our spaces and create an appealing, homey aesthetic. For a quick design change, visit your local greenhouse for indoor and outdoor plant ideas. You can easily spruce up both the inside entryway and the outside space to incorporate beautiful plants that show your home's personality.

The front door is the focal point of the home, and adding gorgeous foliage will increase your curb appeal and enhance the overall design. Just make sure the entryway of the inside entryway gets enough light to sustain your chosen botanicals. Plants like the adorable string of pearls need adequate light to thrive, and the popular fiddle leaf fig needs lofty space to reach its full potential.
7. Add Antiques
A great style benefit to living in Southern California is the abundant and stunning historical architecture. Many homes are designed in the Spanish Colonial or Mediterranean style in the San Diego area, so options to spruce up your space with antiques will create a historic appeal unique to the area. If your home is designed with tradition in mind, spend some time searching for antiques.

Keep the colors natural and harmonize your entryway space with a mix of vintage and modern. The space should be accented with vintage treasures, but not overloaded. Again, keep the space simple and open, and highlight one or two key pieces that make a statement. Vintage finds are an excellent way to show your home's character while paying homage to traditional architectural styles.
8. Change your door
Finally, switch out your front door with something a little more unique. A quick change that makes all the difference (with no renovations necessary), front doors can dramatically shift the mood of your entire home. Many homes have shifted to colorful or rustic dutch doors, allowing more light to pass through the entryway, boosting the home's curb appeal.

If dutch doors aren't your style, consider a fresh coat of paint for the front door in a vibrant, eye-catching color or change the shape of the door entirely. Bell arch doors are increasingly popular and add a charming and sophisticated look to any home. Popular with Spanish and Mediterranean-style homes, arched doorways seamlessly complement any home in the San Diego area.

Widely respected by clients and colleagues alike, Linda Sansone is San Diego's most successful luxury real estate agent. Specializing in luxury homes in the Rancho Santa Fe neighborhood and surrounding communities, Linda offers a professional and responsive service that goes unmatched in San Diego County. Contact her today for an outstanding real estate experience!

*Header Image: Entryway at 18227 Paseo Victoria, Rancho Santa Fe - Sold