Thinking about selling your
Rancho Santa Fe home
? Read ahead to learn valuable information you should keep in mind if you're interested in embarking on the home-selling journey.
1. The Rancho Santa Fe life is highly desirable
Located in San Diego County, Rancho Santa Fe is known to be one of the best places to live in Southern California and houses a handful of premier neighborhoods and communities that include Del Mar Country Club, Rancho Del Lago, Rancho Santa Fe Farms, Rancho Valencia, Cielo, and The Crosby.


The Rancho Santa Fe area has a collection of stunning luxury homes featuring a range of popular architectural styles, including Spanish, Tuscan, modern, and more. These homes are also equipped with splendid features and exquisite design. Residents enjoy privacy in gated communities and have access to top-tier amenities.


Rancho Santa Fe also has a top selection of delicious restaurants, including fine dining, and wonderful shopping. Its selection of excellent schools also makes it a great area to raise a family. In short, residents enjoy not just luxury homes, but also the luxury lifestyle that comes with living in the area.


Many home buyers also purchase a home in the area as an investment. With beautiful luxury features and a sought-after lifestyle, it makes sense that homes in Rancho Santa Fe are known to sell quickly. Rest assured, someone will want to buy your home — you'll likely even have multiple offers to choose from.
2. It's a great time to sell
Currently, the Rancho Santa Fe real estate market is categorized as a seller's market. This means there is a high demand for homes in the area, but low real estate inventory available. In other words, there are a lot of interested buyers, few homes available, and competition among buyers as a result.


It's a highly convenient advantage for sellers because besides having several offers to choose from, high demand means your home is likely to sell at or above the asking price in a short period of time. Due to the competition, buyers are willing to spend more money and are less likely to negotiate in their favor to land the home they're interested in.


As a seller, there's nothing better than closing a good transaction swiftly. According to North San Diego County REALTORS®, homes in Rancho Santa Fe spent
30 days in the market
in April 2022, compared to 60 days during this time last year. The
median sale price was $4.89 million
, a 40.5% increase from last year. In short, your home is likely to sell quickly and for a very good price.
3. Get your home ready
Before placing your home on the market, inspect the inside and outside of your home. Is there anything that needs fixing or replacing? Make sure to repair and/or renovate anything necessary to avoid as many issues as possible when the time comes for your potential buyer to order a home inspection. In fact, many sellers choose to order a pre-sale inspection of the home to locate any issues the home might have.


Getting your home ready can be as simple as repainting some walls to instantly elevate your space. It can also consist of minor renovations like a door replacement, or major renovations such as upgrading the kitchen if you're looking to significantly increase the price of your home.
4. Home staging matters
Many people, most of them potential buyers and their agents, will be viewing your home both online and in person. The ever-important process of arranging your home and preparing it for sale in the real estate market is known as home staging. The way you present your home is one of the factors that will determine whether it will make a long-lasting impression on potential buyers or not, and the goal is to try to impress as many as possible.


Home staging encompasses everything from rearranging furniture and objects to decluttering around the home, re-painting walls, or redecorating. Consider the interior design — artworks, plants, books, rugs, and even lighting — and whether it all complements the style and colors of your home. Does it all connect and make sense together? Home staging also includes details you might not even consider, like the food inside your fridge and the appliances in the kitchen and how they're both arranged.

Don't forget the exterior of your home. The first thing visitors will see during open houses and home tours is the outdoor space, so ensure it's well-maintained. Make sure to deep clean and really take care of the yard, lawn, pool area, seating area, and/or garden to make it look its best.


The goal is to make your home picture-perfect for professional photos and home tours and to make it worthy of the pages of popular home and interiors magazines. It's also important to transmit a welcoming environment and find ways to make your home stand out. It's all about making your home reach its full aesthetic potential and how you can make people fall in love with it at a glance. Also, consider whether it communicates the luxurious Rancho Santa Fe lifestyle.
5. Marketing is everything
Marketing is an incredibly important step in the home selling process because you're trying to get as many people to come across your home as possible. The best home selling marketing campaigns use the best marketing strategies across several media platforms and target a specific audience. They also include professional, top-quality photos and video footage of your home for advertising that will make buyers want to attend an open house.


A successful marketing plan gathers several interested buyers, which translates into multiple offers to choose from. This competition can lead buyers to increase the amount of money they're willing to spend on your home. For sellers, the more offers, the better.


As you can guess, creating and launching a triumphant marketing campaign is a lot of work, and it takes time. This is one of the many steps in the selling process where sellers can really benefit from the services of an experienced real estate agent to do all the marketing for them.
6. Hiring a real estate agent is a must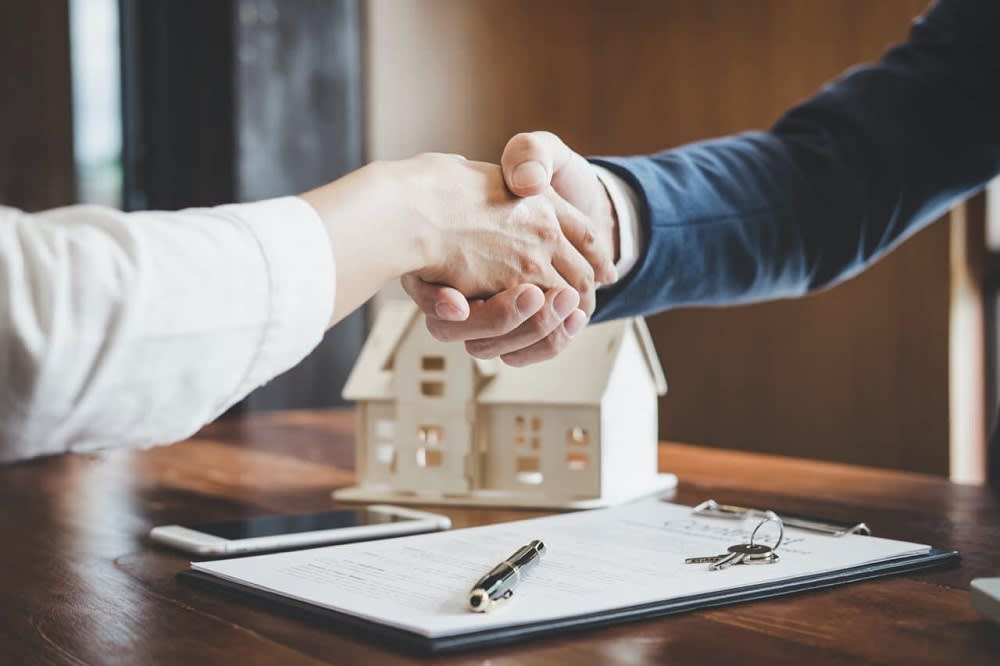 Hiring a qualified real estate agent that will act in your best interests is essential when selling a home, especially in the luxury market. The real estate selling process can be difficult, stressful, and even intimidating at times — having a qualified agent to guide you through it and take care of the task makes all the difference. It's a time-consuming process, and agents take the time to do all the hard work so you don't have to. Hiring an accomplished, knowledgeable agent will also allow you to keep a sense of normalcy throughout the process and allow you to go on with your daily life without much disruption.

Additionally, a good agent will prioritize your objectives and ensure you choose the right buyer for you and your home. They will also keep you informed and come with valuable real estate knowledge, connections, and the best service to ensure a seamless transaction.

The best agents maintain constant communication, take the time to educate you, and help you prepare for the entire home selling process, including these essential steps:
Determining the right price for your home. After conducting a real estate market analysis to compare the market value of similar properties, an agent recommends a fair price.

Repairing and fixing your home, if needed.

Home staging to make your house look the best it's ever been and make a grand first impression.

Launching an efficient marketing campaign to promote and advertise your home.

Listing your home in the MLS (Market Listing Service) to help increase the exposure of the property.

Hosting open houses and tours.

Navigating offers and choosing the best one for you.

Scheduling a home inspection. Buyers order home inspections to obtain a detailed report on the condition of your home. This includes structural and exterior components of the home, utilities, appliances, and other aspects that might need repairs. Results in the home inspection might ensue in further negotiations and can affect certain aspects of the sale.

Gathering all the necessary paperwork needed for the transaction and offering legal guidance.

Attending the closing meeting to sign final documentation.
Interested in selling your Rancho Santa Fe home?
Contact Linda Sansone today. Linda is one of San Diego's most successful luxury and coastal real estate agents and specializes in buying and selling luxury homes in Rancho Santa Fe and the surrounding communities. Linda is more than qualified to successfully sell your home, as colleagues and clients alike praise her integrity, extensive market knowledge, professionalism, and work ethic.