Rancho Santa Fe is an unincorporated, idyllic,
affluent community
in San Diego's North County. Perched atop rolling eucalyptus-covered hills is where you'll find the perfect mix of luxury and countryside living. The Kumeyaay people originally inhabited the site where
Rancho Santa Fe real estate
currently rests. However, the last two centuries have seen this land fall under the jurisdiction of Spain, Mexico, and then the United States of America. Today, Rancho Santa Fe real estate frequently ranks among the
most expensive zip codes
in the nation. In 2021, Rancho Santa Fe was one of three San Diego zip codes to make the list of most expensive in the nation, ranking 18th with a median home price of nearly $3.4 million.
The community
Although Rancho Santa Fe is considered a small community by most measures, it is among one of the nation's wealthiest. Rancho Santa Fe was master-planned in the 1920s, and those homes are now known as being in "The Covenant." However, today's Rancho Santa Fe is much larger than the original development and is quite a close-knit community. A little-known fact is that Rancho Santa Fe was awarded the distinction of being designated a State Historic Landmark because of its origins as a planned community.
Palatial estates
If you desire acreage and luxury, you have just found a place you can call home. Many of the properties in Rancho Santa Fe are sprawling estates. Homes you'll find here are generally at least 5,000 square feet, while massive, palatial mansions approaching 10,000 square feet and above are not uncommon. The largest estates are ideal for those who love horses and have dreamed of owning equestrian property. Residents of Rancho Santa Fe do not have to worry about excessive traffic or busy thoroughfares throughout the community. Instead, small streets connect the community to ensure your privacy and tranquility.

The community of Rancho Santa Fe has a rich history of agriculture; as such, you can find properties here with their own orchards. Private access and gated communities dot the landscape in and outside of the Covenant to further ensure privacy. The view you can expect to enjoy from your Rancho Santa Fe property varies depending upon where your home is located. Properties along the western border of Rancho Santa Fe are treated to spectacular views of the Pacific Ocean, less than five miles from the ocean. Other homes in Rancho Santa Fe enjoy sweeping, panoramic views of the countryside and rolling hills.
The Village
The Village is located in the Covenant section of Rancho Santa Fe and is where you will find many amenities you'll need daily. Because Rancho Santa Fe is not one of the busiest areas in San Diego County, you won't find many of the same dining or shopping opportunities in the larger San Diego metropolitan area. And that is just the way Rancho Santa Fe residents like it. Rancho Santa Fe is offset by exclusivity and privacy. However, fret not; Solano Beach and Encinitas are both only a relatively short drive away, and you'll find larger box stores and luxury shopping there.

Residents of Rancho Santa Fe frequent the Village for necessities without leaving the community. There are a few eateries, a barber, dry cleaners, a pharmacy, and mail services. Rancho Santa Fe does not have home mail delivery. Instead, residents have centralized PO Boxes in the Village where they can retrieve their mail. You can also opt for a mail delivery service to deliver your mail and packages.
Dining opportunities
Thyme in the Ranch
is a popular Rancho Santa Fe eatery specializing in fresh and delicious breakfast, brunch, and lunch options. Specialty diets such as vegetarian and vegan or gluten-free are also accommodated here. Located on Avenida De Acacias, Thyme in the Ranch is popular among locals who pop in for tasty meals or pastries. This charming café and bakery is closed on Mondays and features daily specials and catering services.
When you find yourself in the Village requiring a caffeine boost, stop by
Caffe Positano
, located on Paseo Delicias. They're open bright and early to serve their freshly roasted Rancho Roast specialty coffee. You can also grab pastries, muffins, and cookies, all freshly baked daily. If coffee isn't your cup of tea, you have your choice of more than 30 teas served hot or iced. Enjoy your beverage and gorgeous Rancho Santa Fe weather at Caffe Positano's outdoor seating area.
Sometimes when you're craving pizza, nothing else will do. This is where Leucadia Pizzeria comes in.
Leucadia Pizzeria
is another eatery popular with Rancho Santa Fe residents. You can create your pizza or choose from one of several specialty pizzas. Appetizers, soups, salads, pasta, desserts, and sandwiches are made fresh daily from scratch.
Golfer's paradise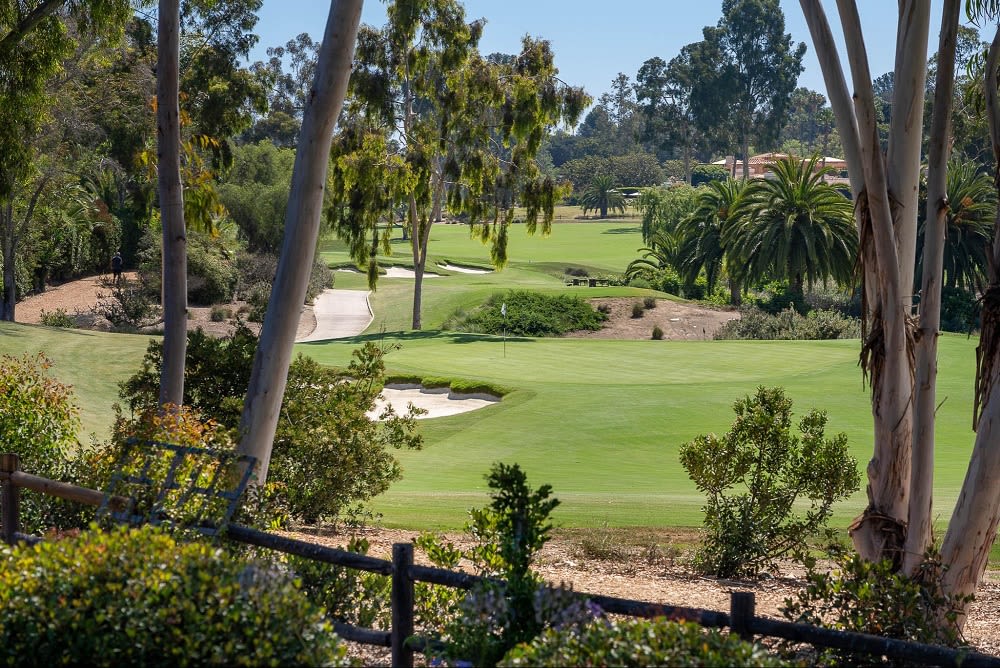 If you like to hit the links, you'll be hard-pressed to find a community with more golf courses than Rancho Santa Fe. There are 11 golf courses in Rancho Santa Fe, and they're all private. And, if 11 courses aren't enough, there are another 57 courses within 20 miles of the community. These nearby golf courses are public, municipal, and private courses.
Rancho Santa Fe Golf Club
is the gem of the community of Rancho Santa Fe. Membership is only available to property owners living within the Covenant. The course opened for play in 1929, was designed by Max Behr to blend with the land's natural contours, and has achieved BoardRoom magazine's coveted Distinguished Emerald Club of the World status.
Another notable course in Rancho Santa Fe is
Morgan Run Club & Resort
, which touts itself as "The premier country club and resort in San Diego." Here you can play golf and racquet sports, go swimming, and relax at spa facilities. There are also fitness spaces, on-site dining, and a 69-room boutique hotel where guests can stay. The facilities are not open to non-members unless they stay at the resort or are guests of a member. However, non-members do have access to the restaurant. The lushly landscaped grounds often host special events, weddings, member mixers, and charity events.
Fairbanks Ranch Country Club
gives you the unique opportunity to live where you play. The neighborhood of Fairbanks Ranch consists of several gated communities just south of the golf club. Fairbanks Ranch Country Club was founded in 1984 and is situated on 274 acres. There is an 18-hole championship golf course designed by Ted Robinson, and in 2004, Ted Robinson Jr. designed a nine-hole course for the club.
Equestrian facilities
Rancho Santa Fe is an equestrian lover's dream. Here, horse trails abound, and there is plenty of acreage available for homeowners to build stables, keep horses, and go horseback riding. Diehard horse people will appreciate local equestrian centers such as
Concord Equestrian Center
. According to the center's mission statement, "Our teaching mission drives us to educate the public interested in traditional English hunter/jumper riding to the best of our ability with the healthiest and happiest horses we can care for." This family-owned equestrian center instructs and mentors top professional and amateur riders. There is a Buckaroo Rides program for children ages two to six and lessons ranging from ages six to adult. The center also offers children ages six to 13 the opportunity to make new friends at Pony Play Date. This two-hour interactive play date combines fun with learning, a place where children can groom, paint, and bathe a horse or pony.
Another Rancho Santa Fe equestrian facility is
Rancho Cielo
. Rancho Cielo Equestrian Facility has several boarding options and various training and riding programs with experienced instructors. The property sits on 11 level acres and has two jumping areas, a regulation-size dressage arena, a western ring, and one western schooling area. Visit Rancho Cielo, and you'll enjoy the privacy and professionalism Rancho Cielo offers and miles of riding trail access throughout Rancho Santa Fe.
If you're considering purchasing a home in Rancho Santa Fe, you want the best agent by your side to help you navigate the process, and there is no better choice than the top Rancho Santa Fe real estate agent,
Linda Sansone
. Linda uses her nearly quarter of a century of real estate expertise to help you buy or sell your home in Rancho Santa Fe. Contact her today for a consultation, and rest assured you have a Global Real Estate Advisor on your team.
*Header photo courtesy of 4511 Via Gaviota in Rancho Santa Fe on 3 private acres, On the Market