Rancho Santa Fe is known for its stunning architecture. Dating back to the early 1900s, the community was originally part of the Mexican Rancho Period land grant and named "Rancho San Dieguito." Designed with Spanish-themed architecture and spearheaded by a few famous architects, Rancho Santa Fe is loaded with unique, historical characters in every corner of this picturesque community.
A Brief History of Rancho Santa Fe
Set along the rolling hills of San Diego, the census-designated community of Rancho Santa Fe is steeped in art, character, and history. Walking through this community is like stepping back in time — the enchanting buildings and charming homes are reminiscent of the late 1800s and early 1900s architecture, and many are listed on the National Register of Historic Places.
This is a special community preserved in time and built to last. A dream for both architects and designers, some of the most beautiful homes were built in 1921 with a promise that the community would "stay in character" and remain true to its Spanish, Mexican, and Kumeyaay Indian influences.
To encourage agricultural development in this area (once known as the "Avocado Belt" of San Diego County), residents received a land grant from members of the Spanish and Mexican governments to create a thriving community. The "Rancho Period" brought wealth and community to the area, and by 1846, the ranchos covered over 10 million acres from San Diego to Shasta County.
Adobe ranch homes, villas, and bungalows line the perfectly planned streets and hills of the neighborhood, and over time, the addition of more modern homes brought this exclusive community an updated allure. Today, Rancho Santa Fe remains one of the most coveted towns to live in California and boasts gorgeous, historic architecture throughout the community. An agricultural and floricultural paradise, Rancho Santa Fe is the perfect Southern California place to live.
Behind the design
One of the first women to earn a degree in architecture from the University of California Berkeley in 1910, Lilian Rice was a pioneer in architectural design. A hardworking student and later an incredible teacher, Lilian designed dozens of homes and buildings in the San Diego community. She taught mechanical drawing and descriptive geometry at the high school and collegiate level, and in 1920, she was chosen by the famous Richard Requa to help plan and design the new community of Rancho Santa Fe.
With the utmost care, consideration, and endless research, Lilian created a community rich in Spanish Colonial architecture with remnants of Indigenous cultures scattered among the buildings. Blending her personal style with historical cultures, the Rancho Santa Fe community owes much to Lilian's architectural prowess and dedication to quality. Mentioned often in the Rancho Santa Fe Association publication Progress, Lilian was known throughout the area as the "architect in charge" and "supervising architect." Many of the buildings designed by Lilian are listed on the National Register of Historic Places.
Spanish Colonial Revival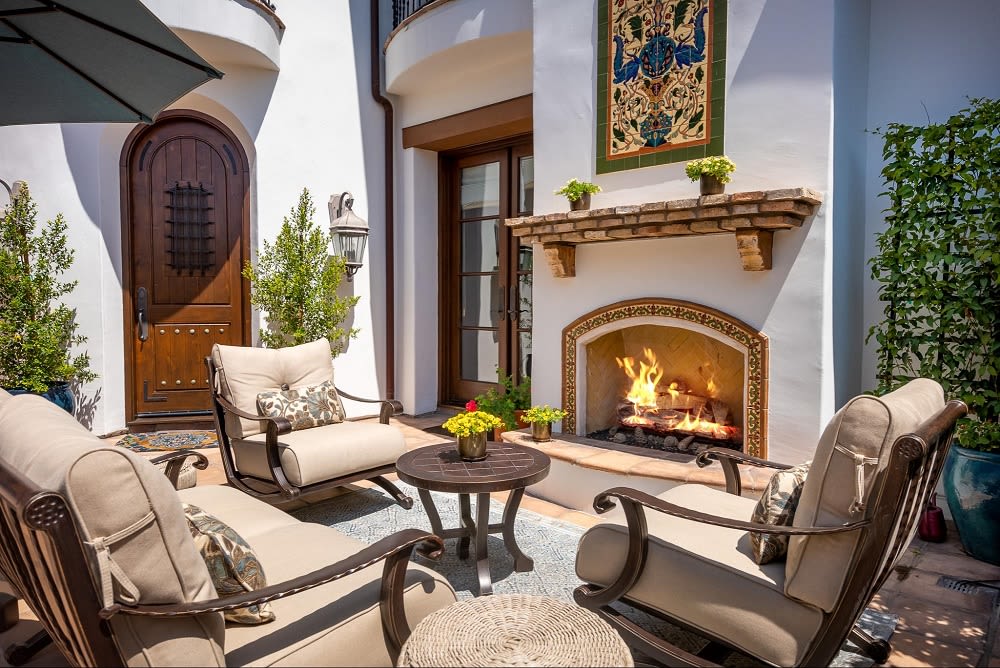 14010 Rancho Solana Trail, Rancho Pacifica - Sold
The most popular architectural style in Rancho Santa Fe is the Spanish Colonial Revival. With deep roots stretching back to the mid-1800s, this style was prominent throughout Southern California for over 100 years. Key features of this style include terra-cotta tile flooring, arched doorways set in rich dark woods, and flowing verandas for alfresco dining.
With romantic charm and expressive embellishments, Spanish Colonials often referred to as simply "Spanish Revivals," typically feature pitched roofs with asymmetrical exteriors and wrought iron gates or decorative black iron pieces on the outside of the building.
Homes built in the traditional Spanish Colonial Revival are usually one-story ranches. Many of the larger homes include enclosed courtyards and feature quaint front or side porches. Stuccoed adobe is the main material used in construction, and colors are neutral and muted — white walls and wooden and metal accents can be found inside and outside of the home, and earthy red ceramic roofs are distinctive characteristics of this classic style.
Inside, Spanish Colonial homes are bright and airy. Arched windows bring the warm Southern California weather into the home, creating breezy hallways and scattered light. Hand-painted tiles line the floors and open hallways lead to gorgeous, shaded courtyards to accommodate the California sun. Some rooms, called loggias, are open to the elements, creating a seamless space to bring the outdoors in. Exposed beams are another common characteristic of Spanish Colonial homes, and many feature large fireplaces ensconced in colorful Spanish-themed tile.
A modern twist
Spanish Colonial homes have gotten a makeover since the late 1800s. Along with the traditional characteristics, new homes are being built to preserve the historical style while adding a few modern twists. New Spanish Colonial homes blend mid-century styles, like large contemporary porches and different facade colors, usually gray or sand. Inside, homes are decorated with simplicity in mind, allowing the stuccoed walls to speak for themselves and showcasing unique features and mixed materials.
Many modern homes mix the old and the new, creating a unique space specific to the home and homeowner's personality. Mixing modern furniture and decor with the historic bones of a home can create a space that is truly unique to the homeowner while still paying homage to traditional architecture.
Mediterranean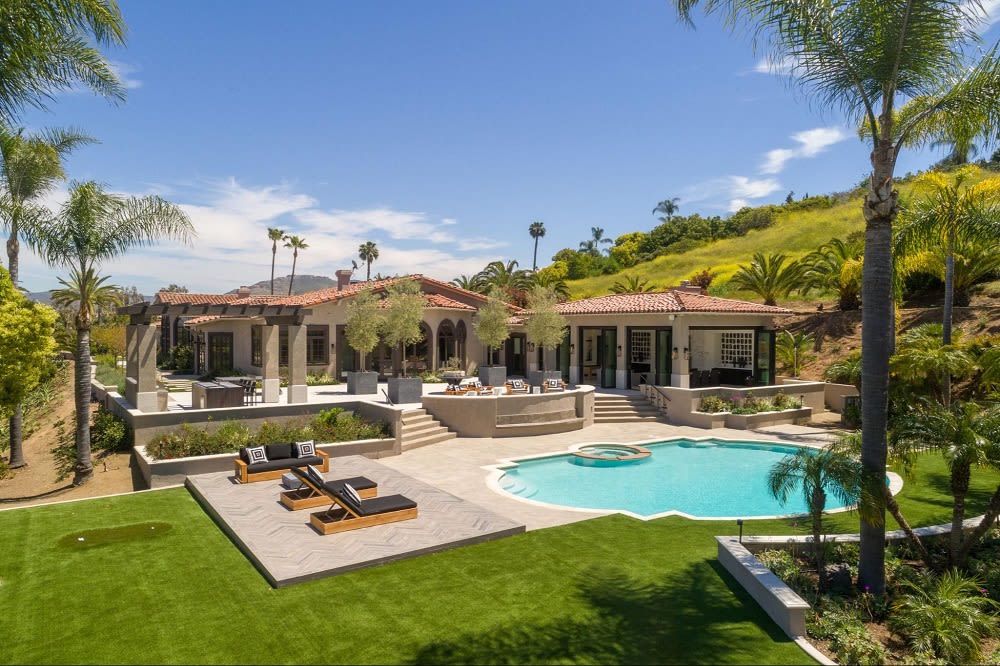 18192 Via Ascenso - Sold

Heavily influenced by Spanish Revival architecture, Mediterranean-style buildings are identified by carved wooden doors, vast windows with heavy shutters, and stucco walls. The purpose of Mediterranean homes is to create an indoor/outdoor living experience — rooms are more open to the outdoors, courtyards are larger and windows are bigger to accommodate the mild, year-round climate.

Built to capture the warmth and wealth of Mediterranean villas, these homes can be found throughout Rancho Santa Fe. Some draw from the Italian Renaissance style, which is heavily ornate and grand, while modern Mediterranean homes feature simple designs inside and out with symmetrical exteriors. These homes also have stucco walls and many are painted in brighter colors, like rust or tan.

Inside the homes, spaces are decorated with natural materials and finishes, and modern homes have updated, energy-efficient windows, larger rooms with open floor plans, and swimming pools. Traditional architectural details are preserved throughout the home, adding historical elements to the overall "less is more" design characteristics. Color is used as an accent in Mediterranean-style homes — not overused. Adding a splash of colorful tiles in a neutral kitchen or bathroom and using the elements of the outdoors as a canvas for decoration are other traditional characteristics of both Mediterranean and Spanish Colonial homes.
Modern luxury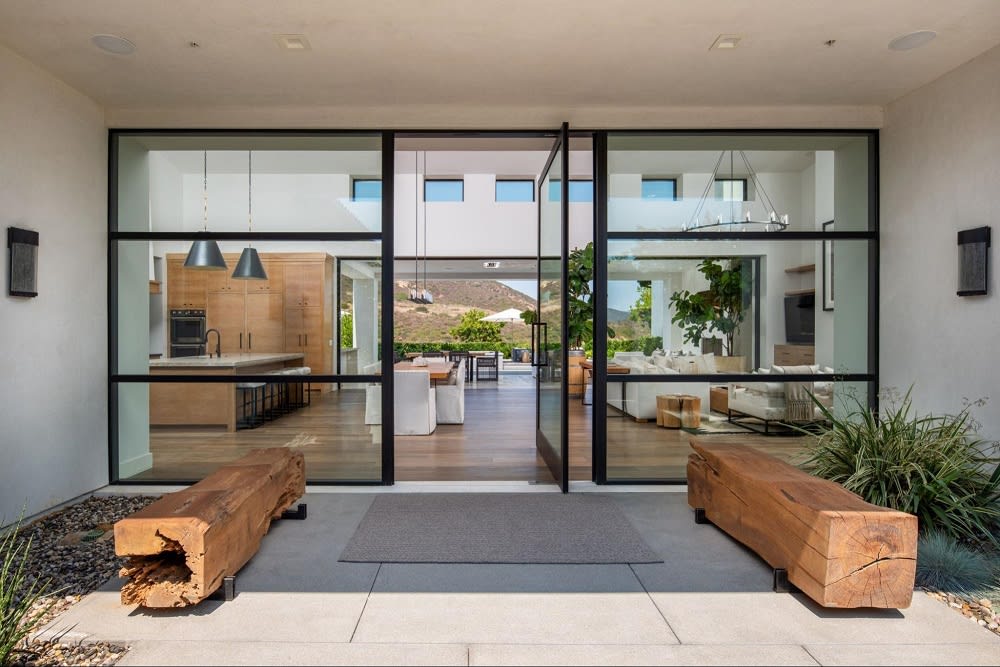 While many of the homes in Rancho Santa Fe focus on classic styles, new homes are being built with a more modern and contemporary look. Modern luxury homes line the rolling hills of the exclusive community, many of which blend older styles with the new. From the adobe plastered walls to industrial beams and hard lines, the modern homes of Rancho Santa Fe are an homage to the classics, but with their own unique twist.

Newly built homes offer timeless style and design while creating a new look in the community — many contemporary mansions are sprawling ranches and villas fully equipped with the best technology systems, contemporary open floor plans, and huge windows to take in the stunning Rancho Santa Fe mountain views. New homes feature ample outdoor space for entertaining, including outdoor lounge spaces, large swimming pools, and meticulously maintained landscaping.

The planned community of Rancho Santa Fe was named a state historical landmark in 1989 and original buildings designed by Lilian Rice are still standing today. If you're looking to explore the beautiful architecture of this beautiful, historic small town, contact Linda Sansone, a top-producing agent serving the Rancho Santa Fe and surrounding communities, for an outstanding experience. Specializing in luxury homes in the Rancho Santa Fe neighborhood, Linda offers a professional and responsive service that goes unmatched in San Diego County.